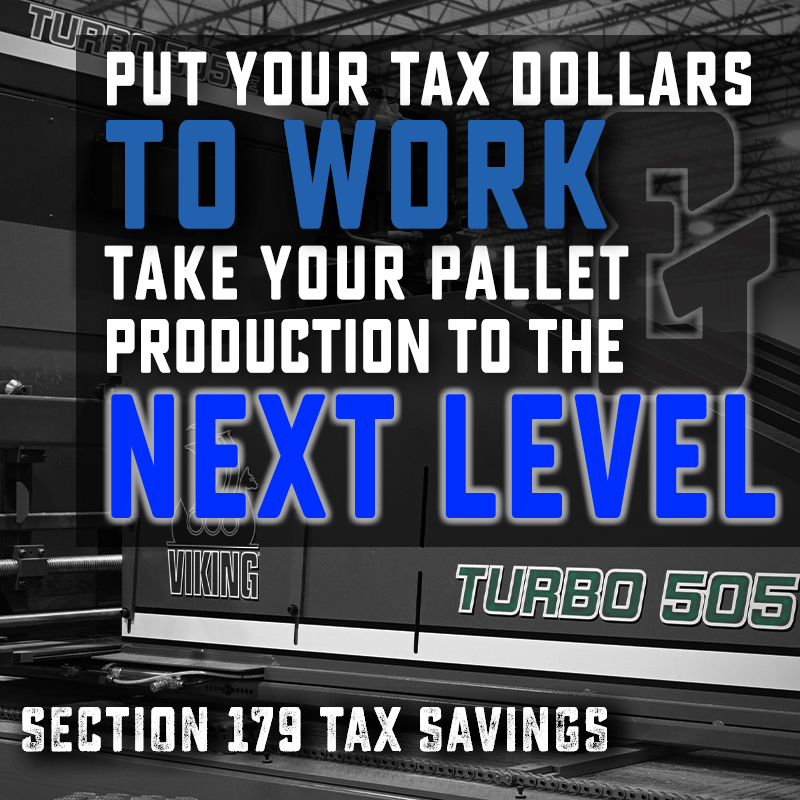 Still trying to get your 2023 Section 179 Tax Deduction?
Viking has limited spots available for 2023 installs of the Turbo 505 SE and Champion Nailing Machines!


Looking to upgrade your current equipment? Check out our Turbo 505 and Champion Upgrade Kits!
Businesses have ongoing incentives to acquire and install capital equipment. The Tax Cuts and Jobs Act of 2017 made significant changes to both Section 179 and bonus depreciation.
These changes continue to be in effect for 2023 and when used together may allow businesses to deduct up to 100% of capital purchases.
Section 179
Deduction Limit: $1,160,000.

Phase-Out Threshold: $2,890,000.

Bonus Depreciation: 80%.
Speak to a qualified tax professional familiar with your specific business circumstances.

TURBO 505 SE

· 1,900+ Pallets/Shift

· The Industry Standard

· Reliability & Ease of Operation
CHAMPION QC306

· 500-600 Pallets/Shift

· QC - "Quick Change" Overs

· New/Recycled/Low-Grade Lumber
Rx3i Turbo 505 Upgrade Kit

· 12" Color Touch Screen

· Updated PLC

· Improved Serviceability
Turbo 505 Silver Upgrade

· 15% Improved Cycle Time

· Advanced Operator Screens

· Improved Motors
Champion Upgrade Kit

· Faster PLC

· Improved OIU

· Expert Install