Introducing the New Live Data Portal!
The Viking Live Data Portal is designed to allow customers to view production data remotely from any mobile or desktop device with an internet browser. The Portal is in the first stages of its design and will improve as we gather feedback from customers.
FAQ
What machines are eligible?
- All 2018 and newer Turbo 505 and Turbo 606 machines
- Express 403 to be added soon
- Champion to be added in the future, likely late 2019
- Turbo 505s 1995 and newer that receive the Rx3i Upgrade Kit
How often is the data updated?
- The data updates automatically every 15 minutes
What hardware is required?
- Additional Hardware installation by Viking or your own maintenance staff
- An Ethernet cable to connect the machine to the internet
What if I don't have Ethernet capabilities in my building?
- We are investigating using WiFi to connect the Secomea to the internet
How do I access the Live Data Portal?
- Contact BrockJ@VikingEng.com to learn more.
Charts & Data Available
Production



- Each bar represents a specific date
- Each color corresponds to a specific pallet type
- Totals for each date are displayed above each bar
- Use the grid on the right to add/remove pallet types from the chart
Target vs Actual


- Each bar represents a different pallet type
- Target is calculated automatically based on the production of 5 pallets without stopping
- Actual is counted by the machine
Efficiency



- Each bar represents a different pallet type
- This chart is useful for comparing efficiency between pallet types
Downtime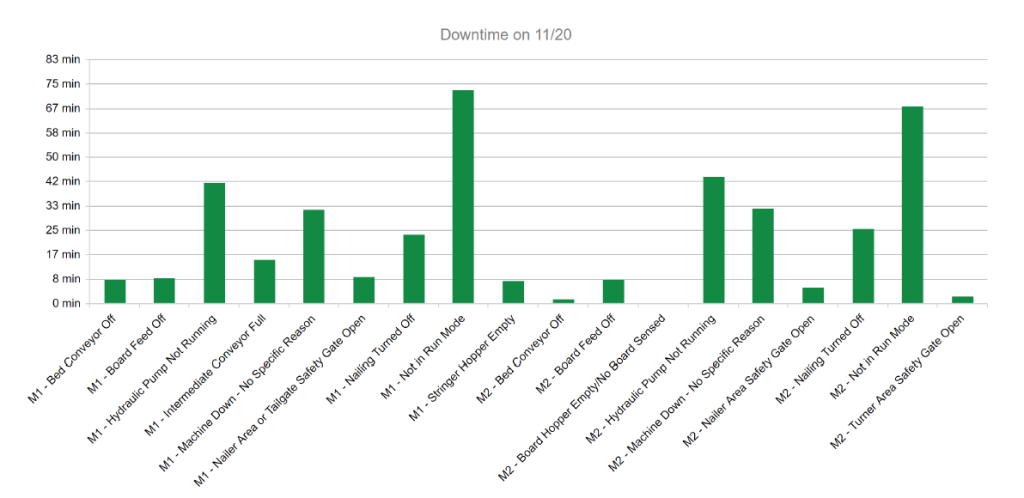 - Each bar represents a different downtime reason on the machine
Changeovers
- A graph displaying changeover times, similar to the Downtime graph, is expected to be added soon
Weekly Reports
Page 1


Page 2
- Weekly reports emailed to users. Provides overview of production for the week
- Choose to receive Friday afternoon or Monday morning
Export Data to Excel

- Exports up to 1 year of production data into Excel
- Allows users to create their own charts, pivot tables, etc.
Next Steps - Predictive Maintenance
- We are working on adding Predictive Maintenance capabilities to our equipment
→ Example: A cylinder alerts maintenance that is is reaching the end of its average life cycle
→ Maintenance orders replacement part (or machine orders automatically)
- Weekly health reports
→  Alerts management whether maintenance has been conducted by operator
→ Provides status of parts - which are nearing end of life cycle
FOR MORE INFORMATION OR TO CREATE A LOGIN, CONTACT
BROCKJ@VIKINGENG.COM